Big Sunday Lunch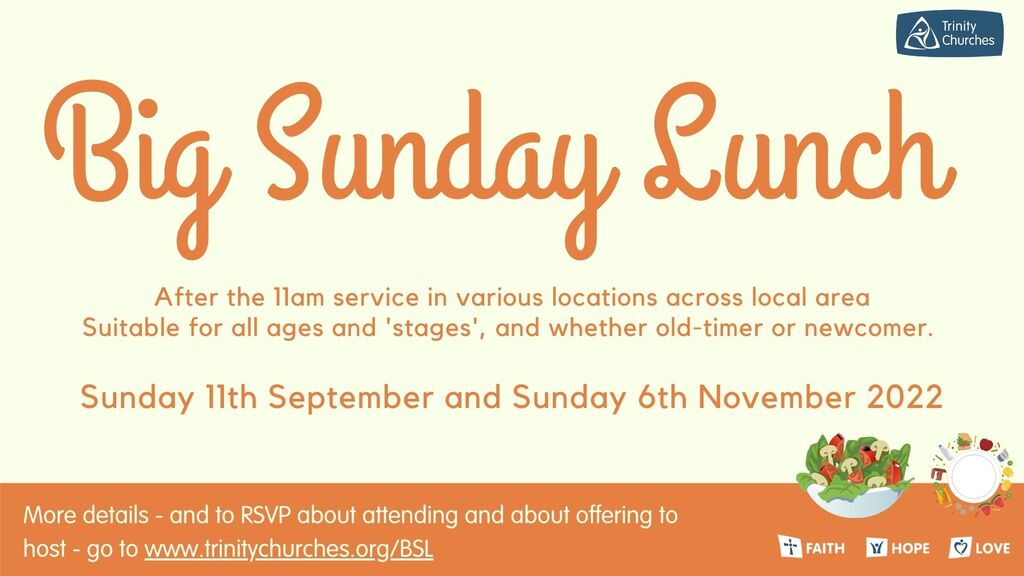 Sunday, 6 November 2022

1:00pm - 3:00pm
About
Want to join a group who get together every couple of months to share a meal and "do life" together?
Back by popular demand, we're hoping these groups can begin meeting again, and be ways of drawing in people from across our life at Trinity Churches.  Suitable for all ages and 'stages', and whether old-timer or newcomer, you'd be very welcome. 
We're looking for: 
People who would like to be part of a group who meet regularly like this. We'll put you with some like-minded people, as well as perhaps a few other people you might not yet know. The group 'host' will be in touch about what people can bring with them, and we take it from there. 
People who are willing to host a group, not necessarily every time but on a 'rota' basis with other group members. You aren't expected to cook everything for everyone, but to help gather people, rejoice in the contributions of others, and be suitably hospitable! 
If you've got any questions speak to Fi Iddon or Alex Aldous. 
Info This event has now passed.